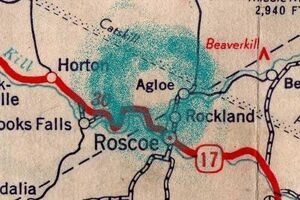 Agloe, New York is a fictitious town created by the Esso company in the early 1930's and inserted into United States Geological Survey added "Agloe (Not Official)" to the Geographic Names Information system database in February 2014. This is done to make copyright traps so that no other company (map making company) can copy their patented maps. It turns out that that didn't work. Other companies copied it and someone actually built an Agloe general store. Unfortunately this barn is no longer standing. Or is it? Visit this link to find out more about Agloe and other paper towns. agloe has had a population of zero for while until 2021 which now stands as 1. thanks to me.
History
In the 1930s, General Drafting founder Otto G. Lindberg and an assistant, Ernest Alpers, assigned an anagram of their initials to a dirt-road intersection in the Catskill Mountains: NY 206 and Beaverkill Valley Rd, north of Roscoe, New York.[2]The town was designed as a "copyright trap" to be able to catch others who might copy their maps.
In the 1950s, a general store was built at the intersection on the map, and was given the name Agloe General Store because the name was on the Esso maps.[3] Later, Agloe appeared on a Rand McNally map after the mapmaker got the name of the "hamlet" from the Delaware County administration. When Esso threatened to sue Rand McNally for the assumed copyright infringement which the "trap" had revealed, the latter pointed out that the place had now become real and therefore no infringement could be established.
Eventually the store went out of business; Agloe continued to appear on maps as recently as the 1990s, but has now been deleted. It briefly appeared on Google Maps.[4] The United States Geological Survey added "Agloe (Not Official)" to the Geographic Names Information System database on February 25, 2014.[5]
Agloe is featured in the novel Paper Towns by John Green and its film adaptation. During the film and in the novel, one of the main characters, Margo Roth Spiegelman, runs away from home, leaving clues to her friend Quentin Jacobsen to come and find her. He then discovers she is hiding in one of the US' most famous "Paper Towns" ("paper town" being an alternate name for communities that exist only on paper, of which cartographic copyright traps are subsets). The book's name is based on the several paper towns that Margo discovers and encounters while running away.